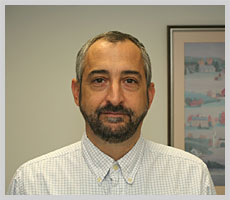 The law practice of

Michael C. Leccese

is founded on the evaluation, management and protection of patents, trademarks and copyrights. The firm has many years of highly technical engineering experience in many different technology areas.

Michael's objective is to guide persons through the complexities of protecting their intellectual properties by zealously representing and counseling their interests in the best possible way. In addition, Michael's many years of highly technical and design experience, coupled with his education, aids his clients with the details of developing their ideas and inventions.
The information contained on this web site and in any publications, articles, or other printed matter (either electronic or otherwise) is intended to inform viewers about the firm, its members, associates, affiliates, current legal developments and other pertinent information in various legal and business areas. Moreover, this web site is for advertising purposes for the function to promote the firm. Anything on this sight should not be construed as legal, accounting, business or other professional advice, and readers should not act upon the information contained herein without first seeking professional assistance and counsel. Furthermore, any summaries present in the aforementioned materials reflect the understandings of the authors only and are not meant to convey legal opinions or advice of any kind. The firm expressly disclaims any liability for any errors or omissions in the aforementioned materials.